Hillary Clinton Says Donald Trump Would Bankrupt America Like "One of His Failed Casinos"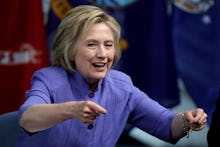 Presumptive Democratic presidential nominee Hillary Clinton tore into Republican counterpart Donald Trump on Tuesday, hitting his economic plans as "reckless" proposals that would "bankrupt America" like "one of his failed casinos."
During a speech in Columbus, Ohio, Clinton painted Trump's tax plans as bad for working Americans, saying he'd give away more money to the "120,000 richest American families than he would to help 120 million hardworking americans."
"Even in this era of rising inequality, this is like nothing we've ever seen," Clinton said.
Clinton pointed to experts who said Trump would send America into recession and named him as one of the "10 biggest threats to the global economy."
She ripped into his business record, saying the number of bankruptcies he's filed throughout his career is not the norm.
"He's written a lot of books about business, they all seem to end at Chapter 11," Clinton said.
She added that the 3,500 lawsuits filed against his businesses over the last 30 years came from the same kind of middle-class Americans Trump would endanger if elected president.
"A large number were filed by ordinary americans and small businesses that did work for Trump and never got paid: painters, waiters, plumbers, people who needed the money and didn't get it," Clinton said. "It's not because he couldn't pay them, but because he could stiff them."
Clinton added that Trump doesn't live up to his pledge to bring jobs back to America, as he manufactures many of his Trump brand products overseas.
"Interestingly, Trump's own products are made in a lot of countries that aren't named America," she said. "Trump ties are made in China, Trump suits in Mexico, Trump furniture in Turkey, Trump picture frames in India, Trump barware in Slovenia. I'd love to hear him explain how all of that means 'America first.'"
At times she seemed genuinely perplexed by Trump's tax proposals and past business record.
She said when she sat down to write the speech, she asked her researchers, "Really? He really said that?"
Ahead of the speech, Clinton's campaign launched a website hitting Trump on his economic and business record, called artofthesteal.biz — a play on Trump's book The Art of the Deal, which he often touts on the trail.
The campaign also released a web video that highlights Trump's business blunders, including his multiple bankruptcies in Atlantic City, New Jersey, which left small businesses and contractors footing the bill.
Clinton's Columbus, Ohio, speech came a day after financial disclosure records revealed that Trump's campaign is nearly broke, reporting just $1.3 million in his campaign account at the end of May.
The reports also revealed that Trump spent hundreds of thousands of dollars from his campaign funds on his own businesses and children throughout the campaign — which the Clinton campaign latched onto as a line of attack.
Trump, for his part, is slated to respond on Wednesday at a speech at the Trump SoHo in New York, where he'll deliver the Clinton attack speech he pushed back after the mass shooting in Orlando, Florida.
Read more: