Report: Colleges Expel Students Seeking Mental Health Resources to Avoid "Bad PR"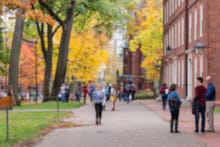 It's a given that in order to stay in business, colleges must maintain a virtually spotless reputation to keep application rates and endowments high. But a new investigation by NBC's Today found that the incentive for universities to save face often comes at the expense of their most needy students.
Over the course of a six-month investigation, reporter Ronan Farrow spoke to 22 students at 10 schools across the country who were forced to leave campus after seeking mental health resources on campus. 
"I was just scratching myself really," Jasmine Wooten, a former University of Chicago student told the outlet. She recalled how she had been on the cross-country team and took humanities courses when she was a the college. Though she had developed depression, Wooten said she never thought about killing herself, which is why she was surprised when a school counselor — whom she visited for help — admitted her to a psychiatric hospital for two weeks.
During the segment, four other students told similar stories of being strapped to gurneys and taken to the hospital against their will.
Wooten told Today that when she returned, the university's administrators told her she had to leave campus. "They just handed me this contract saying I had to move all of my stuff outside of my dorm in 48 hours," said Wooten. "And they just kept pressuring me to sign it." 
In a statement to Today, University of Chicago officials said it was "simply false to claim that the university encourages students to take leaves of absence without regard to their unique circumstances."
Victor Schwartz, an NYU psychiatrist, told Today the decision to force students like Wooten off campus is often motivated by the "potential risk of suicide," which he said is "for one thing, a bad PR problem for the school."
According to data collected from National Alliance on Mental Illness by Psychology Today, one-third of students report having experienced prolonged bouts of depression, one-fourth said they've had suicidal thoughts or feelings and half reported their mental health as being "below average or poor." 
And, as mental health issues are increasingly labeled a "crisis" or "epidemic" on college campuses, the links between mental health and sexual assault become even clearer. NBC News anchor Ronan Farrow wrote on Twitter Monday, "We spoke with some men, but yes many woman. And yes, many say their mental health issues [are] related to sexual assault."
Said Wooten, "Throwing away students like they did me is not the answer to helping someone."
Read more: