First Legal Nonbinary Person in the US Just Nailed the Problem With How We Define Gender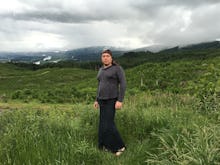 Earlier in June, an Oregon judge ruled that 52-year-old Jamie Shupe could change their gender to identify as neither male nor female. 
In an interview with Out, interviewer Jacob Tobia asked Shupe about the importance of the ruling and what it means for our ideas of gender parameters in the U.S. 
"I didn't just reset the parameters, I got rid of them," Shupe said. "They're nothing but toxic. We've always said that you can be trans any way you want to. Isn't that what the community says? But the truth is [legally] you can only be trans as a male or a female." 
Shupe, who was assigned male at birth and transitioned to female as an adult, said that being classified as a woman made them feel "crushed" with the expectations to pass as female. 
"Even when it was time to take the dog out, God," Shupe said. "I'm supposed to be a female. The neighbors think I'm a female and I have to put on this presentation to go take the dog out. It was crushing me. I totally disagreed with the classification." 
Shupe also addressed the recent national transgender bathroom controversy. They wish all bathrooms were gender neutral. 
"I'm a huge advocate for gender neutral bathrooms because they protect us," Shupe said. "They protect everybody."
Shupe also emphasized the need to address transgender mental health. 
As a veteran and a transgender person, Shupe compared being transgender in the U.S. to having PTSD. 
"[The Veterans Affairs website claims] you can get PTSD from just living in fear of being in a war zone," Shupe said. "What does that description tell you about the trans existence? Everything about our life revolves around living in fear all the time. We're in fear when we go to the bathroom. We're in fear when we go in public. We're in fear of whether our family's going to leave us. We spend our whole lives in fear, most of us have PTSD."
Read more: