'Pretty Little Liars' Season 7 Livestream: How to Watch the Premiere Online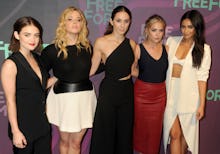 The seventh and potentially last season of the teen-thriller Pretty Little Liars premieres on Tuesday at 8 p.m. EST on the Freeform channel. But those without television access can livestream the episode on Freeform's website, which does requires a television provider log-in.
The season is expected to kick off with a race to save Hanna Marin from the hands of the menacing Uber A. By the end of the season, Spencer Hastings, Hanna, Aria Montgomery and Emily Fields will (hopefully) have gotten all the answers on who Uber A truly is. 
Audiences who have been following the series won't want to miss what producer Marlene King has called a "full-circle season," according to TVLine. The new season will have a variety of ups and downs, boasting the most deaths and also a wedding. 
The sixth season ended on a dramatic note, with the plan to catch Uber A going wrong and resulting in Hanna's own kidnapping. Meanwhile, Alison DiLaurentis was tricked into checking herself into a psychiatric hospital; however, it has been revealed that her mother's (secret) and evil twin sister might be at the hands of her and the other Liars' peril. 
Read more: