"Mississippi Burning" Civil Rights Murder Case Has Finally Been Closed After 52 Years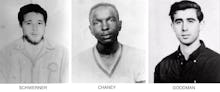 Mississippi's attorney general announced Monday that the federal investigation into the murder of three civil rights organizers in 1964 has officially been closed, the Associated Press reported.
"The evidence has been degraded by memory over time, and so there are no individuals that are living now that we can make a case on at this point," Mississippi Attorney General Jim Hood told the AP.
Andrew Goodman and Michael Schwerner, who were white, and James Earl Chaney, who was black, were captured by Ku Klux Klansmen during a trip to Neshoba County, Mississippi, 52 years ago this month. The three men's bodies were found shot and buried in an earthen dam near Philadelphia, Mississippi, 44 days after they went missing.
Their deaths collectively became known as the "Mississippi Burning" murders, after the code name given to the FBI's subsequent investigation into the case. The investigation lasted in various iterations for five decades, leading to eight trial convictions and one guilty plea, according to the New York Times.
One of the more recent convictions was of the mastermind behind the killings, a Ku Klux Klan member named Edgar Ray Killen. Killen was convicted of manslaughter in 2005 and is serving a 60-year prison sentence. He is 91 years old.
Though the killings occurred more than half a century ago, they still linger in the minds of the victims' family members today.
"It is something that resides within us all the time," Julia Chaney-Moss, who was 17 when her brother James Chaney was killed, told Mic in an email. "Satisfaction is not something we were ever seeking or could ever feel [in this case]. The only acceptance about this is that someone was finally charged with murder, tried and convicted for murder and is currently serving time for the murders.
"But that's only one person," she added. "And we know that there were far more individuals involved."
Chaney-Moss also wishes more had been accomplished in the early stages of the investigation.
"I would like for this case, when it first started out in the 1960s for each of those ... individuals to have been charged, tried and convicted of murder," she said.
In truth, the FBI's success rate wasn't even close to that high. The bureau arrested 18 men they believed were involved in the crime in 1964, but only seven of that group were ever convicted, and none for murder. 
Hood said Monday that his office and the FBI were satisfied and there wasn't much left to be done in the case.
"I am convinced that during the last 52 years, investigators have done everything possible under the law to find those responsible and hold them accountable," Hood said at a news conference, according to the Times. "However, we have determined that there is no likelihood of any additional convictions. Absent any new information presented to the F.B.I. or my office, this case will be closed."
Thus ends the most recent federal push — begun in 2008 with the Emmett Till Unsolved Civil Rights Crime Act, which required state attorneys general to appoint special investigators and FBI agents to look into civil rights-era murders committed before 1970  — to find those accountable for this gruesome triple homicide.
The case reeked of conspiracy from day one: On June 21, 1964, Schwerner, Chaney and Goodman — all civil rights organizers in their 20s — had been investigating the arson of a black church in Neshoba County that was being used to register black people to vote. Shortly after they left the church that day, they were arrested and jailed by the local deputy sheriff, Cecil Price, who held them in the local jail for six hours without a phone call. 
Price released Schwerner, Chaney and Goodman later that night. He then followed them in his car, detained them again, and turned them over to a group of local Klansmen, who shot and killed the three young men.
Price was convicted in 1967 of conspiring to kill the organizers. He was sentenced to six years in prison, of which he ended up serving four and a half. Price died in 2001 at 63 years old after falling off a lift at an equipment rental store and fracturing his skull. He'd been out of prison for 30 years. 
Read more: