In Honor of National Selfie Day, We Ranked Kim Kardashian West's 7 Most Iconic Selfies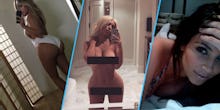 Tuesday, June 21, is apparently National Selfie Day. Sad! But true. Selfies now officially have a holiday.
How did we get here?
Kim Kardashian West is how. The shrewd businesswoman with a bajillion-dollar ass may not have invented the selfie, but she has played an undeniably major role in the selfie's journey toward world domination. So it's only appropriate that we use the occasion of National Selfie Day as an opportunity to reflect on some of her most iconic selfies, and also rank them. 
While one's taste in Kim Kardashian West selfies is certainly subjective, there are some criteria we can use to complete this analysis — namely, her own. Back in 2013, she gave Extra her list of rules for snapping the perfect selfie: 1. Hold the camera above your head and point it downward; 2. pay attention to the angle; 3. "Know your lighting"; and 4. highlight your cheekbones with strategic use of duck face.
(Note: Pictures taken by outside third-parties are ineligible for consideration, as this is a selfie holiday and not a "normal photograph" holiday. However, joint selfies taken with other people are eligible for consideration in this ranking.)
Let's begin with the best selfie of the bunch and work our way down the list.
1. The Amber Rose Selfie (March 2016)
This joint selfie with Amber Rose — captioned, "Tea anyone?" — came along in the wake of Kim's husband talking shit about Amber Rose in a Twitter rant, which fueled rumors that Kim and Amber were each other's nemeses. Not only was this selfie a headline-making declaration of squashed beef, but it also fulfills all of Kim's requirements. The camera is pointing downward, the lighting is flawless and both women are making duck faces. This is a very good selfie.
2. The "Belfie" (October 2013)
This mirror selfie from 2013 is so iconic that it became its own Kimoji. While it may not appear to fulfill all of Kim's requirements at first glance, when you consider that the primary subject of photo is Kim's ass and not her face, you'll notice that it excels: The lighting is moody, the angle is creative, the camera is facing downward (at her butt) and the absence of visible duck face is more than made up for by the addition of her stellar side-boob.
3. The Pregnancy Boobs Selfie (August 2015)
This selfie — taken while Kim was pregnant and therefore in possession of enormous, picturesque knockers — may not feature her entire face, but it technically fulfills all four of her main requirements.
4. The 27-Millionth Follower Selfie (February 2015)
Kim posted this gem after hitting 27 million followers back in February 2015. She eschewed duck face in favor of a mild smirk for this shot, so she loses some points there. The lighting is pleasing, though, and she totally gets bonus points for a very creative angle. The thong also does not hurt.
5. The Naked Selfie That Changed All of Our Lives (March 2016)
Literally everyone had an opinion on this selfie — from Bette Midler to Ariel Winter to Chloë Grace Moretz to Helen Mirren to your mom. But was it a good selfie by Kim standards? Well, the duck face is present, but not much else. The camera is not raised high, and the angle leaves much to be desired. The lighting is just aight. Honestly? If she were clothed, this would be a bad selfie.
6. The Naked-and-Preggo Selfie (August 2015)
Kim's duck face and cheekbones are a true delight here, as is her naked AF pregnancy pose and the accompanying body-affirming caption. But the lighting is very, very bad! Also bad: the angle. This selfie is like 49% wall. It should be called a "wall-e."
7. The Hillary Clinton and Kanye West Selfie (August 2015)
Bad selfie. Kim's and Kanye's faces are only partially visible, and Hillary Clinton is making what appears to be the exact opposite of a duck face. The phone needs to be positioned higher up, and the lighting is "way harsh, Tai." Overall, this selfie appears to have been taken in a hasty manner. It's great that Kim and Kanye are with her, but this is not a good selfie!
So those are Kim Kardashian West's seven most iconic selfies, ranked. Did the results surprise you? Are you shocked that even the Queen of Selfies sometimes fucks up and posts less-than-stellar selfies? Same. Perhaps this knowledge will embolden you to be fearless with your own selfie game this National Selfie Day!
Read more: