Gabriel Marshall, Dad of the Year, Got a Tattoo to Match His 6-Year-Old Son's Surgery Scar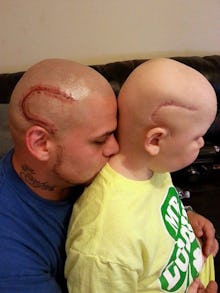 When Josh Marshall's 6-year-old son Gabriel was diagnosed with a brain tumor in March of 2015, Josh did everything he could to support him. And when the surgery to remove the tumor left Gabriel with a scar on the side of his head, Josh wanted to make him feel better about that too.
Gabriel told his dad that his scar made him feel like a "monster," Josh told BuzzFeed News. "This broke my heart ... I told him if people wanted to stare, they could stare at both of us."
So Josh got a tattoo to match his son's scar exactly.
Josh entered the photo of his new tattoo into the St. Baldrick's Foundation #BestBaldDad competition, for parents of children with cancer — and it won.
It's been more than a year since Gabriel's surgery, according to a Facebook group updating friends and family on his progress, and he's doing better. Josh told BuzzFeed that, although some of the tumor remains, Gabriel is stable now.
This past March, Josh posted a video of Gabriel on Facebook along with the message "Today marks one year since we found out about Gabe. This day a year ago was a very dark and scary day, I can still in very good detail recall the whole day and all of the feelings d-day brought! It has been an emotional build the past few weeks knowing this day was coming soon. But today instead of loathing on the past we embraced the present and had fun at Gabriel's cousin Mariah's birthday party ...Thank you team Gabe!"
Read more: