In One Viral Tweet, President Obama Slammed the Senate for Voting Down Gun Reform Bills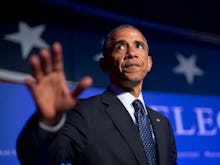 In a scathing tweet that went viral on Tuesday, President Barack Obama tore into the United States Senate for voting down four proposed gun control bills on Monday. The bills were introduced in light of the worst mass shooting in modern U.S. history, which occurred on June 12 at a gay nightclub in Orlando and took 49 victims.
"Gun violence requires more than moments of silence," Obama's tweet, which was retweeted by more than 31,000 Twitter users as of Tuesday afternoon, read. "In failing that test, the Senate failed the American people."
Connecticut Sen. Chris Murphy initiated the idea with a filibuster in the Senate to push a vote on the four gun reforms last week. He collaborated with 40 of his colleagues, including two Republicans, on the initiative. The amendments failed by a vote of 47 to 53.
The proposed amendments included expanding background checks required for those purchasing a firearm, making it tougher for those with mental illness or on the U.S. terror watchlist to purchase a firearm and eliminating the "gun show loophole," which allows anyone to purchase firearms at gun shows without undergoing a background check. 
Read more: