Tahini is the best nut butter, and it's time to give it the love and respect it deserves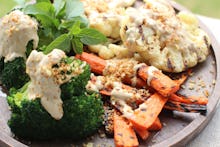 Nut butter enthusiasts: Listen up. You don't need to break up with your peanut butter jar, but you might want to start looking beyond the humble peanut to satisfy your cravings.
Let's get something straight: Tahini is the most under-appreciated nut butter of all time. Almond butter may be the current darling of the food world, but it's tahini's time to shine. It's been a staple in Middle Eastern, Asian and African diets for centuries, and it's finally catching on in the U.S. 
Smooth and nutty-tasting, tahini is made from crushed sesame seeds and oil. The spread plays well in both savory and sweet dishes. It's a scrumptious revelation that's reminiscent of the sweetness in peanut butter, but more earthy. 
And tahini might be on the brink of its Big Moment. "Tahini is the new kale," an article from Epicurious proclaimed back in February 2016. Future Marketing Insights, a market research company, expects tahini to grow in popularity through 2020 because of an increase in demand for seed-based spreads.  
Tahini nutrition
Peanut butter and tahini are pretty similar nutritionally. They are both high in healthy fats and have scant amount of sugar. Peanut butter has just a little more protein. Both are naturally gluten-free. 
Notably, tahini is safe for people who have tree nut allergies. 
Sesame seeds are nutritional powerhouses that boast lots of good-for-you vitamins. For example, tahini has plenty of B vitamins that support heart health, Thrive Market noted. The spread also delivers calcium, vitamin E and zinc. 
How to use tahini
Pick up tahini in the nut butter or Mediterranean food aisle. Don't freak when you notice a bit of oil at the top of the tub: Separation is natural and indicates that there are no preservatives, according to About.com. 
Making hummus is a no-brainer when it comes to tahini, but it's not the only way to use the sesame-seed paste. 
Here are some other tahini recipe ideas: 
1. Whip up homemade baba ghanoush. Get the recipe here. 
Or disregard all of these suggestions and experiment with something less conventional: Perhaps a scoop of vanilla ice cream with a drizzle of tahini on top?  All's fair in love and nut butter.