'Independence Day' Promo Uses Google Earth to Engulf Your Worst Enemy's House in Flames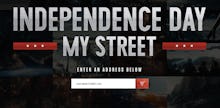 If you've ever wondered what your street might look like in an apocalyptic state of fire and brimstone — this is a totally normal tendency — look no further than this new promotional website for Independence Day: Resurgence. 
IndependenceDayMyStreet.com is powered by Google Maps, providing a street view of any address put into the website after it's been essentially demolished by aliens. The realistic portrayals of suburban streets, city blocks and historic landmarks paint an eerie picture of what's possible if life on other planets are truly intelligent enough to take over Earth. 
Independence Day: Resurgence hits theaters on Friday, but fans have plenty of time beforehand to imagine their environments in absolute chaos. If you've ever wondered what it would look like if the residence of your dumb ex, creepy boss or two-faced frenemies would look like in the midst of an alien attack, simply enter their address and enjoy a fuzzy street view of their personal hell.
Let's have a look, shall we?
Here's New York City's Trump Tower under siege by an alien life force. (Not that you asked for it.)
Here is a troubled White House:
And here is Mic's headquarters engulfed in rubble and smoke — replete with some happy staffers headed to lunch. Where ya headed, guys?
Check out your totally-fucking-obliterated neighborhood here. 
Read more: