A Stranger Tried to Pull Off a Woman's Hijab In a Canadian Grocery Store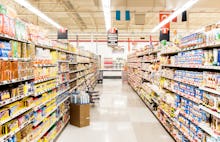 On Monday evening, an woman was attacked by a stranger in London, Ontario, while grocery shopping with her 4-month-old son. The attacker reportedly tried to pull off her hijab, pull her hair and spit on her, reported the London Free Press.
The suspect in the attack was described as a woman wearing a "red Canada T-shirt" and speaking in a "heavy accent," according to the London Police Department, which released an appeal for help identifying the suspect, as well as a photo.
According to the police description, "the unidentified woman approached the victim and began yelling at her for no apparent reason. The woman spat on the victim, then punched her several times. The woman grabbed onto the victim's hijab and attempted to pull it off of her head before pulling the victim's hair."
It's unclear what motivated this attack, and whether it's specifically Islamophobic in nature, Islamaphobic hate crimes are on the rise in Canada, much like they are in the United States. In December, the New York Times reported that "hate crimes against Muslim Americans and mosques across the United States have tripled in the wake of the terrorist attacks in Paris and San Bernardino, California, with dozens occurring within just a month, according to new data."
More than six months later, in the wake of more gun violence and half a year's more worth of Donald Trump speeches, "Islamophobic incidents" are spiking again, Reuters reported on Monday.
"A report by the Council on American-Islamic Relations and University of California, Berkeley released on Monday said the number of recorded incidents in which mosques were targeted jumped to 78 in 2015, the most since the body began tracking them in 2009," Reuters reported. "There were 20 and 22 such incidents in the previous two years, respectively. The incidents include verbal threats and physical attacks."
Maryland resident Sarah Ibrahim, 35, told Reuters she believes there is a connection between Trump's anti-Muslim rhetoric, including his proposed ban on Muslims entering the U.S., and the surge of Islamophobic violence over the past year.
"What Trump did was make these hidden thoughts public. He gave people permission to speak out loud, he removed the shame associated with being prejudiced. People know that they won't be punished," Ibrahim told Reuters.
Read More: