Is 'Archer' Canceled? Here's the Latest on Season 8 and the Future of the FX Show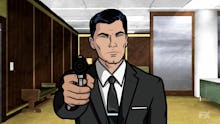 The end of season 7 of FX's animated dark spy comedy Archer may have left fans wondering if the show, and it's titular hero, would ever return. But FX announced that not only is Archer returned for a season 8, starting in "early 2017," the show will air through at least season 10, the AV Club reported on Tuesday.
That's right, Archer has been renewed for three more seasons. However, according to AV Club, they'll be "shorter than in the past" at only 8 episodes per season. There's no word yet on the fate of Sterling Archer and how developments from past seasons will carry through to the new ones.
"We can't say enough about what Adam, Matt, and the entire Archer team at Floyd County have done to keep this series so insanely funny and vital through seven seasons," Nick Grad, FX president of original programming, said in a press release, Entertainment Weekly reported.
"The move to Los Angeles this past season as private detectives was just the latest twist in Archer's legendary exploits, and the next three seasons will to be just as amazing and unpredictable."
Read more: