Hillary Clinton Launches Digital Campaign to Win Over Millennial Voters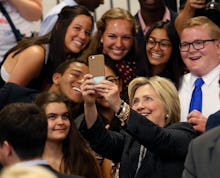 In an effort to reach out to younger voters, presumptive Democratic presidential nominee Hillary Clinton will launch a digital campaign that will provide supporters and non-supporters alike with insight into the inner workings of her campaign.
Through a series of Q&As on Facebook Live and Quora with top campaign aides, the campaign will give voters a channel to voice their thoughts on the primary, as well as ask senior campaign aides questions about everything from Clinton's policy positions to campaign logistics, according to a campaign aide.
They will also chronicle day-to-day life in both the Brooklyn campaign headquarters in New York as well as state campaign offices to give voters insights into how the campaign runs through Instagram and Snapchat.
The effort is an attempt not only to let supporters feel connected to the Clinton campaign, but also try to make reluctant supporters of Sen. Bernie Sanders more comfortable with backing Clinton.
Younger voters supported Sanders' campaign in massive numbers, and Clinton is attempting to woo them before November, when she'll face presumptive Republican nominee Donald Trump.
The digital campaign will begin Wednesday morning, when campaign manager Robby Mook — known for not using Twitter or Facebook in his personal life — takes over Clinton's Instagram account Wednesday to provide a look at what his daily life looks like.
It will continue with a Facebook Live session at 1:30 p.m. Eastern on Wednesday with Marlon Marshall, Clinton's director of state campaigns, and Jess Morales-Rocketto, director of digital organizing, about the Clinton campaign's field and organizing strategy.
On Thursday, state digital directors will take over Clinton's Snapchat to show how the campaign is organizing in battleground states.
Campaign chairman John Podesta will host a Q&A on Quora at 2 p.m. Eastern on Friday, where he'll discuss campaign strategy as well as answer user questions. Mook will also host a Q&A on Facebook Live that same day to give viewers a look ahead to the fall.
Read more: