Relaxing, Lonely, Sleepy, Spiritual: 8 People on What It's Like to Fast During Ramadan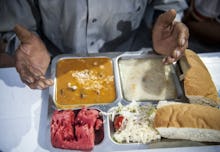 For an entire month, Nadia Ahmad is abstaining from gossip and senseless anger. She's also passing on food and water from dawn to sunset. 
Ahmad is a 26-year-old follower of Islam and is observing Ramadan. The holiday is the "most sacred month of the year for Muslims," according to Vox; it's a time of "spiritual discipline" where observers examine their relationship with God and focus on being more generous. 
Ramadan falls at a different time every year, as Islam follows a moon calendar. This year, dinner typically starts around 9 p.m. Eastern in the United States, because Ramadan takes place during the long summer days. Many people wake up at 3:30 or 4 in the morning to eat their breakfast. 
Fasting might just be the most well-known aspect of Ramadan. Those who observe the month — which runs from June 5 to July 5 in 2016 — eat only two times a day. The first meal, called iftar, is consumed after the sun sets. The second meal, suhur, is eaten before dawn. 
Mic spoke to a number of people across the country who are fasting this year. Ramadan observers go to work and school and live their daily lives without eating. 
For those who've never fasted, especially in our food-obsessed culture, the situation is nearly unimaginable. The eight interviewees below spoke to Mic spoke to opened up about a number of challenges they face during Ramadan, from getting enough sleep to raising kids to finding new ways to hang with friends that don't involve brunch.
(The following interviews have been condensed and edited for clarity.)
Nadia Ahmad, 26, New York City
On getting work done:
On breaking the fast:
On eating chocolate chip cookies for breakfast: 
Nadeem Ahmad, 23, New York City
On mental strains:
On the temptation to quit:
Jordan Alam, 24, Seattle
On the differences between fasting as a child and as an adult:
On the importance of eating healthy:
Mecca Islam, 23, Chicago
On how Ramadan can be relaxing:
On the challenges of meal time:
Chaumtoli Huq, 44, and Marvin Cabrera, 45, New York City
Chaumtoli
On social life changes:
On fasting when prone to migraines:
Marvin
On fasting as a non-Muslim:
On sleeping patterns:
Hira Rizvi, 28, New York City
On sleeping patterns:
On how fasting "shrinks" the stomach:
Sara Mir, 26, Washington, D.C.
On becoming more conscious about food:
On staying energized:
Read more: