Michael Jackson's Porn Collection, Which Had Images of Nude Children, Revealed by Police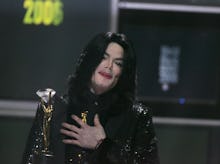 A raid on Michael Jackson's Neverland Ranch in 2003 led the Santa Barbara County Sheriff's Department to a large collection of pornography, including photos of nude children, 80 video recordings and animal torture and gore.
According to Radar Online, which released the police reports Monday, the raid and subsequent confiscation of materials from Jackson's Los Olivos, California, home was part of an earlier investigation of child molestation against the pop star, who died in 2009. 
Former Santa Barbara Senior Assistant District Attorney Ron Zonen, who worked on the case, told Radar that the material Jackson had was used to "desensitize" his victims, and the singer admitted to taking one child to bed with him for "long periods of time." 
"We identified five different boys, who all made allegations of sexual abuse," Zonen said to Radar. "There's not much question in my mind that Michael was guilty of child molestation." 
According to CNN, Jackson was initially charged with "nine counts — seven of child molestation and two of administering an intoxicating agent for the purpose of a committing a felony" in 2003, though a jury had acquitted him of all charges in a 14-week trial in 2005. 
In response to the released documents, Jackson's nephew, Taj Jackson, tweeted his frustration of the report, saying "there is absolutely no truth to this story whatsoever." 
Additionally, on Tuesday evening, the Jackson's estate released the following statement to the media, stating that they'd prefer to remember his talents, rather than see "his good name dragged through the mud by tabloid trash:"   
Seven years ago this coming Saturday, the world lost an amazing artist and humanitarian devoted to helping children in need in all corners of the world. Michael Jackson's fans, including the executors of his estate, prefer to remember the wonderful gifts Michael left behind instead of having to once again see his good name dragged through the mud by tabloid trash.
Read more: