Rihanna Broke Down in Tears During Her Concert in Dublin While Singing an Old Hit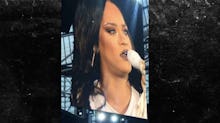 Rihanna has been pulling out all the stops during her Anti World Tour.
It's no surprise the Rihanna Navy showed up in full force to her Tuesday night show in Dublin, where she sang her 2010 classic, "Love the Way You Lie (Part Two)." But she probably hadn't expected her fans to remember every single word, as she was apparently taken aback by her lyrics echoing throughout the giant stadium while fans sang along. 
Rihanna broke down in tears as she looked out into the crowd. 
We're not crying, you're crying. 
The song, as well as the original "Love the Way You Lie," was penned by singer-songwriter Skylar Grey and is thought to have been related to Rihanna's tumultuous on-and-off relationship with Chris Brown.
It was arguably one of the most moving nights on her lengthy tour following the release of her transformative sixth studio album. But it isn't the first time during her 2016 travels she was nearly floored by her fans — in fact, one of Rihanna's front-row fans nearly stole the show in March when she passed the mic to him during "FourFive Seconds."
Fans were moved by Rihanna's candid onstage moment as her breakdown trended worldwide Tuesday night:
And, for those wondering, it looks as though Rihanna was right back to her badass self after the show, snapping a photo with MMA fighter Conor McGregor:
Read more: