'The Birth of a Nation' Trailer Is Here — And It's the Best Kind of Intense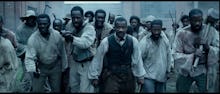 The Birth of a Nation stole the show at Sundance by landing the largest distribution deal in the festival's history, so there's no lack of anticipation. Now, the film's official trailer adds even more weight to the release, with a closer look at its lead, a slave-turned-rebel Nat Turner (played by Nate Parker, who also wrote, produced and directed the film). 
The film appears to climax with the 1831 slave rebellion led by Turner, but also casts light on his childhood — including one chilling scene from the trailer where a white woman discourages him from reading a book.
The rest of the trailer paints a similarly grim picture for Turner: We watch the seeds of the eventual rebellion sown through several heinous acts and interactions with slave owners. Ultimately, to the fitting tune of Andra Day's "Rise Up," the trailer concludes with Turner's rebellion, and the group of slaves who joined his cause. 
You can watch the entire trailer for The Birth of a Nation, which will hit theaters Oct. 7, below: 
Read more: