These Edible Cake Stickers Are a Lazy Baker's Decorating Dream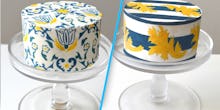 The sight of funfetti cake will always delight, but what about a design that's a little more artful?
You don't need to be a pastry chef to add a little somethin' somethin' to the cakes you bake (or buy — no shame here). Chefanie's Sheets, which are edible, sticker-like dessert toppings, can transform any ordinary cake into a seriously fancy dish. Take a look:
That colorful cake topper up there? It's entirely edible, vegan, kosher and gluten-free. Each sheet is made with tapioca starch, corn syrup solids, sugar, and food coloring. Kept in a cool, dark place, they'll last for up to one year. 
The sheets are a Pinterest-lover's dream. One kit, which comes in two sizes, is equipped with an edible sheet, a ruler and a set of instructions. It's all you'll need to make the beauty happen in your own kitchen. 
This innovation can fit full, frosted cakes of various sizes. Once a cake is frosted, you can delicately place a sheet over the pastry, then trim it with scissors for a perfect fit. When that's done, put the cake in the fridge or freezer to cool, which ensures a clean cut when slicing. 
The sheets come in an assortment of designs and chef Stephanie Nass, the mastermind behind the invention, said she'll be rolling out new iterations constantly. While the patterns in every collection are different, they are all crafted to complement one another, which could make for a pretty sick stacked cake. DIY wedding cake, anyone?
Nass, who studied at the International Culinary Center, is also an artist, which explains the beauty behind her edible textiles. "I can't stop drawing," she told Mic. So far, she's developed five different patterns. Her site also offers the option to customize a Chefanie Sheet, meaning you could ostensibly have a cake that matches your wallpaper. Imagine the possibilities.
Read more: