'America's Got Talent' Trans Comedian Julia Scotti Absolutely Slayed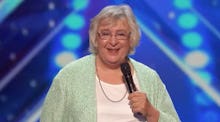 Comedian Julia Scotti took the stage on Tuesday's episode of America's Got Talent and immediately shattered what the judges called her "nice, sort of granny schoolteacher" persona by kicking off her set with a joke about, well, her graying "foliage"... if you know what she means.
The 63-year-old had the judges, and the audience, laughing by doing what all good comedians do — ragging on herself.
And making lots and lots of jokes about her age.
The New Jersey native had the judges cracking up — and when judge Howie Mandel asked Scotti why she started doing comedy so late in life, she opened up to the judges.
"For the first 28 years of my life, I was known as Rick Scotti. So this is big for me."
The response from the judges — and the audience — was nothing but support. And Scotti made it through to the next round with four "yes" votes.
Watch the whole thing here:
Read more: