On Ariel Winter, Body Shaming and Why We Insist on Policing Curvy Bodies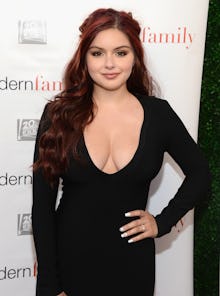 Ariel Winter, who's best known for her role as the book smart little sister on Modern Family, just can't catch a break.
To her senior prom, she wore a black and white lace strapless dress. To her graduation, she wore a light pink bandage dress under her graduation gown. Most recently, to her graduation party over the weekend, she wore a light pink dress with a cutout in the middle. And after she posted a picture of herself in each of these outfits on Instagram, she was body shamed.
Ariel Winter is 18 years old and users frequently comment on her pictures, saying, "What a slut am I right?" and "Put your tits away... your dad's gotta see them." On her most recent dress picture, they wrote things like, "You seriously wore that in front of family?" 
What this says about us as a society is that we are still borderline obsessed with policing curvy women's bodies, and immediately deeming them inappropriate. To see this in action, compare the reaction to Winter's attire to, say, Kylie Jenner. 
Kylie Jenner and Ariel Winter are the same age, wearing nearly the same kind of dress, with approximately the same amount of skin showing, and yet people are far more interested in shaming Winter and her body than Jenner. 
A selection of comments from Winter's graduation party picture: 
"I'd tie my daughter down if she wore any thing like that."
"Sex sells."
"Girl you need to cover up. Respect your body!"
A selection of comments on Jenner's snapchat video, which was reposted on Instagram: 
"You look great Kylie, love the outfit."
"She slayed this outfit though."
"I WANT HER OUTFIT."
As MTV News has already written, the two are nearly style twins, wearing similar, curve-hugging silhouettes. And yet, commenters are quick to shame Winter's favoritism toward more revealing dresses, while they praise Jenner. And that very well may be because of Winter's proportions, because, really, one of the only physical difference between the two are their busts. 
For Winter, the criticism even transcends the most modest of outfits, with Instagram commenters writing things like "Panties or shorts?" and "Not those hooker shorts again" on a picture of the actress wearing a turtleneck and shorts.
Despite still being a teenager, Winter's already had a tough go in the spotlight, facing criticism for how she dresses and her body since it started to change. When she was just 17, she decided to undergo breast reduction surgery. Although she repeatedly claimed that the decision was entirely her own, she did explain how the media specifically had made her uncomfortable before she reduced her bust size to a 32D.
"It made me feel really uncomfortable, because as women in the industry, we are totally oversexualized and treated like objects," she told People. "Every article that has to do with me on a red carpet had to do with 'Ariel Winter's Crazy Cleavage!' or 'Ariel Winter Shows Huge Boobs at an Event!' That's all people would recognize me by — not, 'Oh, she does great work on Modern Family.'"
She also noted that the bullying she faced on social media didn't help. 
"We live in a day and age where everything you do is ridiculed," she told Glamour. "The internet bullies are awful. I could post a photo where I feel good, and 500 people will comment about how fat I am and that I am disgusting." 
But even after her breast reduction, Winter is facing a nearly constant onslaught of online abuse, and it all revolves around her body. In fact, in many senses, her speaking out has only egged on the trolls to go in for her harder, starting online wars with her fans, who ardently defend her in the comments section, only to sometimes receive vitriol directed at them.
"Graduating from whore school?" one commenter wrote on a picture of Winter graduating from high school, to which fans slammed back: "What's your investment in how she chooses to dress?" and "Don't listen to what anybody says. You look beautiful." 
Back in November, she even tried to take a stand against her online bullies, who were telling her that she was "asking for it" after she posted a picture of herself in a swimsuit. Winter was just 17 at the time.
"Who knew that an innocent photo with my nieces would turn into this?" she wrote. "The height of a girl's skirt or whatever she is wearing for that matter, does not imply what she is asking for. It sickens me to think at 17 years old, a photo of myself with my nieces is suggesting that I'm 'asking for it.'"
But now, still in 2016, it seems like the internet isn't comfortable with a woman like Winter. For a naturally curvy woman in Hollywood like Winter who doesn't want to step out every day in a burlap sack or a gigantic, long sleeve muumuu, there's simply no winning. 
And Winter seems to known this. On her Instagram, despite the hateful comments, she's insisted on wearing whatever she wants, whether that be a strapless gown that shows her scars or a crop top paired with a pair of short shorts. However, that doesn't mean she doesn't care. Given the numerous statements that she's made about body shaming — as well as slut shaming — it's clear that she does, but is actually actively fighting her haters and society's expectations of her by dressing how she damn well pleases. 
What else could be more satisfying? 
Read more: