Presidential Poll Roundup for Week of June 20: Hillary Clinton Leads Donald Trump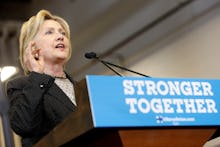 The primaries may be over but there's so much more of the circus that is the 2016 run for president left ahead. Donald Trump's coffers are indeed running dry, which would appear to suggest the waning of his campaign, but he's still in it with the apparent intention of winning it, even if his party feels squeamish about voting for him. Hillary Clinton, meanwhile, has secured the requisite delegates to make her the presumptive Democratic nominee.
The latest polls forecasting the general election show Clinton leading Trump by an average of 5 points — she has 41% support to Trump's 36%, according to RealClearPolitics. A poll released by the Economist and YouGov Wednesday for the period between June 18 and 20 put Clinton at 43%, with significant support from black and Latino voters. Trump garnered 39% with strong support from older white men.
Another poll, which CNN and ORC released on June 21, indicated that Clinton had 47% support and Trump 42%. Perhaps Trump will succeed in closing that gap with his tenacious trolling efforts. Perhaps not.
But let's not forget about Gary Johnson, libertarian candidate for president who has in fact been running this entire time. He carries an average of 8.5%, according to RCP, and applies "a distinctly business-like mentality to governing," according to himself. When respondents were asked for their preference between Clinton, Trump, Johnson and Green party candidate Jill Stein, the CNN/ORC poll put Johnson's support at 9%, while Stein received 7% support.
What of Vermont Sen. Bernie Sanders, you may ask. Has fervent support for the Democratic Socialist all but, ahem, berned out? 
It has not, but while the candidate has not yet suspended his campaign, he would seem to be refocusing his energies on the U.S. Senate, having returned Monday to vote on gun control measures. He did not, however, join the Democrats' filibuster on June 15, as preparation for a speech to supporters kept him in Vermont. Sanders has committed to riding this train until the very last stop — the Democratic National Convention. 
Read more: