Get Tipsy With Felix Felicis, the 'Harry Potter'-Inspired Rum Cocktail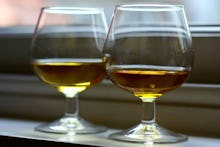 Butterbeer's got nothing on one whimsical cocktail dreamed up by an India-based food blogger. 
Meet Felix Felicis, a rum-fueled take on the eponymous potion mentioned in Harry Potter and the Half-Blood Prince. 
"If taken in excess, it causes giddiness, recklessness, and dangerous overconfidence," Professor Slughorn warned Harry and Malfoy's Potions class in Harry Potter and the Half-Blood Prince, blogger Shirin Mehrota noted on her blog Foodchants.
Recklessness, overconfidence... sounds like a shot of some hooch, no? 
Though it isn't actually an alcoholic drink in the HP books, Mehrota, a Mumbai-based blogger, told Mashable that she always imagined it to be a boozy beverage because of how Professor Slughorn, er, J.K. Rowling, describes it. Mehrota crafted a cocktail that will make the imbiber slightly tipsy and hopefully, lucky — in honor of Felix Felicis' origins. 
"The concoction that I made was a mix of sweet, sour, bitter with a hint of cinnamon," she told Mashable. 
Ready to get tipsy, wizard-style? Get the recipe right here. 
Mehrota said her next cocktail might be inspired by Harry Potter and the Cursed Child, a sequel to the Harry Potter series that's being described as the script of a play. The Cursed Child is scheduled to be released July 31.
Until then, cheers to feeling lucky! 
Read more: