Darth Vader Will Officially Be in 'Rogue One' — Everyone Freak Out!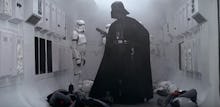 Ever since the news of the first Star Wars anthology film, Rogue One: A Star Wars Story, was revealed, fans have been excited at the narrative possibilities of the film. Unlike The Force Awakens and the other planned films in the series, Rogue One takes place earlier in the Star Wars universe. It'll set up the plot of A New Hope, when the Rebel Alliance steals the plans to the Empire's deadliest weapon, the Death Star. 
Therefore, with its place in the timeline, one imposing figure from the Empire would still be looming: Darth Vader. Rumors had swirled over the possibility for a Vader cameo, but now, Entertainment Weekly confirms: Indeed, one of the most iconic villains of all-time is making an on-screen return. 
Rogue One covers the publication's latest issue, which declares, "34 years before The Force Awakens, a new brand of heroes fights the Dark Side — and an old foe... Darth Vader is back!" 
The introduction of a new villain, Director Krennic (Ben Mendelsohn), will likely limit Vader's role in Rogue One, but even so, the news of the Sith Lord's return brings with it a new wave of anticipation for the series' latest installment.
"Darth Vader kind of looms large over the plot even when he's not necessarily on screen because [of] the new villain," EW's Anthony Breznican told Good Morning America. "[Krennic is] trying to fulfill the wishes of the Emperor and he's got Vader kinda looming in the background over his shoulder, making sure that he gets the job done." 
With this great disturbance in the Force, Star Wars fans on the Twitterverse were freaking out over the news. 
EW also revealed information about some of the new characters in Rogue One. Mads Mikkelsen is confirmed to be playing the father of Jyn Erso (Felicity Jones), the main protagonist of the film — a detail he accidentally spoiled in an interview back in April. According to the publication, Mikkelsen's character is a scientist whose work is wanted by the Empire and the Rebel Alliance alike. 
Additionally, details of the highly publicized Rogue One reshoots will be explained (the test screenings reportedly bombed). 
Rogue One will be coming to theaters Dec. 16. You can check out the teaser trailer below: 
Read more: