Ben & Jerry's Is Making a Chocolate Chip Cookie Dough-Flavored Beer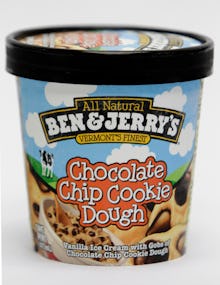 What is more appealing? Beer-flavored ice cream or ice cream-flavored beer? 
Ben & Jerry's is banking on the latter. The ice cream company has teamed up with Colorado-based beer maker New Belgium Brewing to turn a popular pint flavor into a beer, according to a press release. The result is a Chocolate Chip Cookie Dough Ale, which is set to hit store shelves in the fall of 2016. 
New Belgium's Director of Sustainability Jenn Vervier gave a vague clue about what's to come, saying "the beer in development tastes amazing," but that's about all the information that is out there regarding the taste. Who knows, it might just taste like boozy liquid cookie dough (which isn't the worst thing that could happen).
The two companies will donate $50,000 of proceeds from the sale of the ice cream-inspired beer to Protect Our Winters, a nonprofit dedicated to creating awareness around climate change. Climate change is an important issue to Ben & Jerry's, so much so that they released a flavor called Save Our Swirled, specifically dedicated to the cause. 
The new Chocolate Chip Cookie Dough Ale will be the second time Ben & Jerry's teams up with New Belgium. Last year, the two companies collaborated on a Salted Caramel Brownie Brown Ale, which generated some backlash. Critics argued that the beer would be tempting to children. Surely, boozy ice cream, which looks just like regular ice cream, is more of a concern?
Read more: