Calysta Bevier, 'America's Got Talent' Teen Cancer Survivor, Earns the Golden Buzzer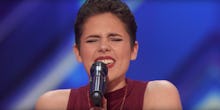 Tuesday night, 16-year-old singer Calysta Bevier earned the last golden buzzer of this season of America's Got Talent from the show's toughest critic — Simon Cowell.
Bevier stunned on the America's Got Talent stage with a heartfelt rendition of Rachel Platten's "Fight Song" after revealing herself to be a survivor of stage 3 ovarian cancer.
"I came here today to show people that no matter what you've gone through, keep chasing your dreams," Bevier told the crowd.
"I've got this really incredible feeling about you ... I think everyone in this room felt it ... you were nervous I could hear that," Cowell told Bevier shortly before pressing the golden buzzer and sending her to the final live show. "I predict great things are gonna happen for you. There's something about you."
Beiver's adds to a host of incredible stories out of America's Got Talent this season. 
She follows Sal Valentinetti, the 20-year-old pizza delivery boy set on becoming the next Dean Martin, and 12-year-old ukelele player Grace VanderWaal, whom Cowell described as the "next Taylor Swift." Both earned trips to the final round with jaw-dropping performances.
Watch Bevier's rendition of "Fight Song" in full below.
Read more: