Tess Holliday's Gorgeous Instagram Breastfeeding Selfie Will Give You the Mid-Week Feels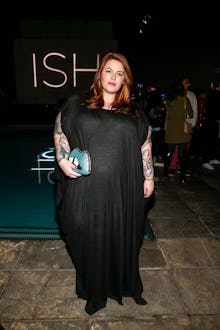 If anyone was born to be a life-affirming, powerhouse Instagram mom, it was plus-size model/goddess Tess Holliday. Just a week after giving birth to a baby boy named Bowie, she posted a black and white selfie tagged with #NormalizeBreastfeeding on Monday.
"Now I find that the days blur together of breastfeeding, sleeping when I can, tears of happiness (& sometimes fear), & no longer having a case of 'The Mondays,'" she wrote in the caption. "Because every day is a new adventure when you see it through your little one's eyes."
Holliday joins a number of celebrities and everyday women (and even one brave doe) who have all taken a stand against breastfeeding stigma in recent years. Blake Lively, Chrissy Teigen, Brooklyn Decker and more have all documented their public breastfeeding adventures on social media, despite platforms like Instagram and Facebook prohibiting images of topless women. (Breastfeeding photos are technically allowed on both platforms, but that hasn't stopped other users from flagging such images.) 
"We live in a very funny society, a society that on one hand says that we're just a sexual object," Jagged Little Pill singer Alanis Morissette once said while promoting The Milky Way, a documentary about breastfeeding in the United States. "And then when this other sort of otherworldly, biological wind-in-the-hair goddess power comes out in the form of feeding our children in a very beautiful, animal way, that can actually be more intimidating."
But you oughta know that Tess Holliday is so not here for people who may be "intimidated" by her decision to breastfeed. Her Instagram makes it very clear that breastfeeding stigma has no place on her grid. 
Read more: