BET Awards 2016 Host and Performers — Including Future, D'Angelo and Alicia Keys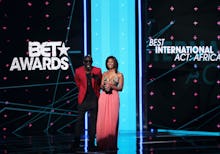 The 2016 BET Awards are poised to be, as the kids say, lit. 
Set to air at 8 p.m. Eastern on its eponymous network on Sunday, June 26, the ceremony will feature star-studded appearances and performances, including a special Prince tribute from the likes of Sheila E., Janelle Monáe, D'Angelo and The Roots. 
Read on for the full scoop on how to watch live and who's hosting, and for your guide to which performances are most likely to bring the house down.
How to Stream
There are three main ways to make sure you catch all the action this Sunday night.
Though the ceremony doesn't kick off until 8 p.m., red carpet coverage begins at 5:30 p.m. Eastern, and can be streamed live at bet.com/redcarpet.
Then, to watch all of the hot backstage drama unfold, head over to bet.com/backstage at 8:00 p.m. Eastern for The Backstage Live Stream, presented by Cricket Wireless and Nissan.
Finally, the main event will air internationally on BET itself — and if you don't have cable, keep your eyes peeled for Twitter reactions as the proceedings unfold.
The Hosts
The 2016 BET Awards will be hosted by Tracee Ellis Ross and her T.V. husband, Anthony Anderson, both of ABC's "Blackish". The duo will be sure to exchange playful barbs, and will introduce the list of nominees and winners for each category, which can be viewed here.
The Performers
In addition to that Prince tribute that the network teased while simultaneously dragging Madonna's version at the Billboard Music Awards, Sunday night's show will feature performance will feature the talents of Usher, Future, Alicia Keys, Bryson Tiller and many more.
Read more: