'Power Rangers' Casting Bryan Cranston as 'Zordon' Actually Makes Total Sense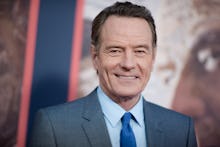 TV and film star Bryan Cranston, best known for his portrayal of Breaking Bad's Walter White, has announced his latest project — and you probably didn't see this coming.
On Tuesday, Cranston posted to Twitter informing fans he will star in the 2017 cinematic reboot of the Power Rangers franchise, playing a character named "Zordon."
Co-star Dacre Montgomery, who plays the Red Ranger, posted another teaser image to Twitter.
Childhood viewers of the show may know Zordon as the "wise galactic sage" who created the Power Rangers and served as their chief mentor and adviser, but they will probably mostly vaguely remember him as the disembodied floating head in a stream of energy in the Rangers' command center.
While Cranston's pivot might strike some fans as odd, one of the actor's first major roles was working on The Mighty Morphin Power Rangers live action series in the 1990s.
"One of my jobs as a young actor starting out was voiceover," Cranston told IGN. "I also did dubbing. A lot of dubbing and a lot of voiceover."
"So foreign films would come in and I'd go in," he added. "One of the places that did a lot of that was Saban Entertainment. And they would take movies and then cartoons from all over the world and we'd go and do the English dub. And the Power Rangers came in, and I did some voices for that ... And it paid like $50.00 an hour, which was fantastic. And you'd work two, three hours at least a day."
For example, here is a nearly unrecognizable Cranston voicing a (mirror-themed?) villain named "Twin Man":
Power Rangers is slated for a March 2017 release in the U.S. and is directed by Dean Israelite. Cranston's co-stars will include Elizabeth Banks as arch-villain Rita Repulsa, and Naomi Scott, Becky G., R.J. Cyler, Ludi Lin and Montgomery playing the eponymous rangers.
In the meantime, here's a sneak peek at what Cranston's role will hopefully look like:
Read more: