Tennessee's Rick Tyler Sponsored "Make America White Again" Billboard in Bid for Congress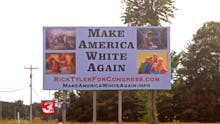 Tennessee congressional candidate Rick Tyler, who's running as an independent candidate in November's election, made no effort to hide his racism in a billboard sponsored by his campaign that reads "Make America White Again."
His campaign websites — RickTylerForCongress.com and MakeAmericaWhiteAgain.Info — which are listed on the billboard, are now defunct.
According to local news station WSMV, Tyler told Channel 3 he has no ill will toward people of color and that he intended the sign's message to evoke nostalgia, not hatred. Tyler told the outlet he wants to go back to the "1960s, Ozzie and Harriet, Leave it to Beaver time when there were no break-ins; no violent crime; no mass immigration." 
And also, apparently, a time before the civil rights movement.
Tyler said that many people are unbothered by the sign, even taking photos with it. However, members of the local Kiwanis club who typically meet at the Whitewater Grill in Ocoee, Tennessee, which Tyler owns, are now boycotting the venue in protest.
"We are a civic club of inclusion and not exclusion and find these statements repugnant," wrote the branch's lieutenant governor Chris Newton in a Facebook post. "As a citizen of Polk County, I, Chris Newton, will never personally be back to this establishment."
Tyler told Channel 3 he invites the opposition. "I respect their right to have an opinion," he said. "I believe the majority of the people in the county like it."
Read more: