Gary Vaynerchuk Apologizes For Outrageously Sexist Party Invitation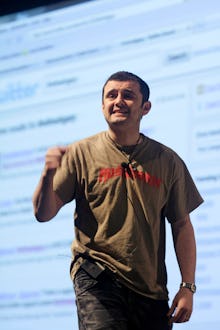 We tend to think that overt misogyny in the workplace is rare. Yet a leaked email invitation to a party at the annual Cannes Lions International Festival of Creativity in France indicates that blatant sexism is still alive and well, even in professional circles. 
The email invitation to the party, which was cosponsored by the digital agency VaynerMedia and the online publication Thrillist, stated that "attractive females and models only" were welcome to attend. The email also asked women to submit "untouched photos and or [sic] your Instagram/Facebook links" as their admission to entry. 
The email quickly went viral after former advertising executive Cindy Gallop tweeted a screenshot of it. "It's 2016, @vaynermedia @thrillist," she wrote. "This is not how you party at @cannes_lions." 
VaynerMedia CEO Gary Vaynerchuk was quick to respond with a video offering a public apology. "Any production teams or people you work with you hire at your fault, so I'm really upset," he said. Thrillist founder Ben Lerer was less apologetic, dismissing the email as mere "promoter spam."
Thrillist is no stranger to media backlash and accusations of raging sexism. Earlier this month, the site published a controversial ode to heterosexual anal sex, which it quickly retracted. 
However, this type of sexist attitude isn't unique to Thrillist and VaynerMedia, nor is it exclusive to the media industry. Women across industries are still judged for their appearances and must fight an uphill battle to even earn a seat at the table, or in this case an invitation to the party.
From the casting calls for scantily clad "booth babes" at tech conferences and vaping conventions to studies proving that women who don't wear makeup to work make less money, it's clear that the workplace is still riddled with sexist beauty standards. By speaking out, Gallop just reminded us all that the only way to fight the elephant in the boardroom is to identify it by name.