Broadway Stars Sing "What the World Needs Now Is Love" to Honor Orlando Shooting Victims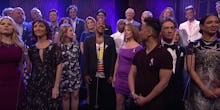 Over 60 Broadway stars joined voices to honor the victims of the shooting at Orlando, Florida's Pulse nightclub to record a cover of Burt Bacharach and Hal David's "What the World Needs Now Is Love."
Their song dropped Monday, featuring contributions from Lin-Manuel Miranda, Audra McDonald, Whoopi Goldberg, Idina Menzel and Sean Hayes, with proceeds going to the GLBT Community Center of Central Florida. On Tuesday, some of the superstar group gathered again to sing their track on Maya & Marty, a sketch comedy show starring Maya Rudolph and Martin Short. 
Intercut with images of tributes around the world, the recording is a truly moving nod from an artistic community that has long served as a haven for LGBTQ individuals and audiences.
"All of us in the Broadway community are deeply saddened by the senseless tragedy that occurred in Orlando," the artists said in a joint video statement from the original recording session released by Playbill. "We send our love and support and thoughts and prayers to everyone impacted by this act of violence and hate."
Some of the contributing stars previously voiced their support during the Tony Awards. Lin-Manuel Miranda read a sonnet alluding to the tragedy while accepting his first award of the night for best score. "We live in times when hate and fear seem stronger," Miranda said. "Love is love is love is love is love is love is love is love; cannot be killed or swept aside."
Watch clips from the recording session below and find the recording here.
Read more: