Bernie Sanders All But Admits Defeat: "It Doesn't Appear That I'm Going To Be the Nominee"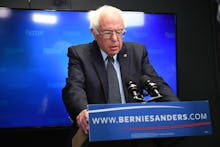 Sen. Bernie Sanders on Wednesday made his first public admission that he is unlikely to be the Democratic presidential nominee, reportedly telling C-SPAN in a yet-to-be-aired interview, "It doesn't appear that I'm going to be the nominee."
Sanders has not yet dropped his bid for president, despite the fact that Hillary Clinton clinched the nomination two weeks ago after big wins in California and New Jersey.
"It doesn't appear that I'm going to be the nominee," Sanders conceded, per USA Today Washington correspondent Nicole Gaudiano.
But his language has softened in recent weeks.
He met with Clinton on June 14, where he vowed to help defeat presumptive Republican nominee Donald Trump.
In a video message broadcast to supporters, he said he would bring his issues to the Democratic National Convention in July, making no mention of his hopes for the nomination.
Still, Democrats wary of Trump hope that Sanders will end his bid before the convention and endorse Clinton.
Read more: