Beyoncé's 'Sorry' YouTube Video Surfaces, So Even Us Common Folks Can Now Watch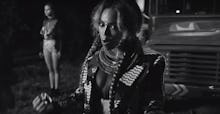 An extremely lucky, hooked-up, niche audience was blessed to watch Beyoncé's latest visual album Lemonade exclusively on HBO during it's sudden release in late April. An even more niche audience was able to then watch and listen to the album in its entirety when it became available for streaming exclusively on Tidal. 
But Queen Bey has blessed the common folk with another surprise release: The standalone music video for "Sorry" featuring a twerking Serena Williams is now available on YouTube.
"Sorry" could very well prove to the hit summer 2016 needs, though Beyoncé has yet to release music off her sixth solo studio album for the airwaves. However, the surprise YouTube release, provided via Beyoncé's Vevo channel, could hint the track is set to become the first official single off Lemonade.
Watch Queen Bey in all her glory below:
Read more: