Woman Rejected Man's Sexual Advances — So He Fired 33 Bullets Into Her House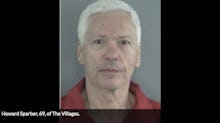 The headline says it all, folks: Howard Sparber, 69, of The Villages — a retirement community in Central Florida — fired 33 rounds from a 9mm handgun Monday into the house of a woman who refused his sexual advances, WKMG reports.
Fortunately, no one was injured during the attack. The woman whose house Sparber attacked was not home at the time of the shooting.
Sumter County sheriff's deputies arrested Sparber soon after and charged him with armed burglary, aggravated stalking, shooting into a dwelling and criminal mischief, according to the report.
He had apparently become infatuated with the woman — who was his neighbor, and whose name has not been made public — and had been trying to get her to sleep with him since at least November 2015. 
Monday's attack left bullets in the victim's front door, storm door, foyer and kitchen. The woman's house reportedly sustained $3,000 in damages.
Sparber had also pointed a gun at the woman during a previous incident, according to WKMG. 
In a troubling number of cases over the years — including this one — men have felt so entitled to women's attention that they've reacted violently when rebuffed. This is especially chilling in the context of larger statistical patterns. According to the Bureau of Justice Statistics, about 90% of female homicide victims in the U.S. in 2013 were killed by men. Another report from the Violence Policy Center found that — in murder cases where the relationship of the parties involved could be determined — 94% of women who were killed by men in 2013, were killed by a man they knew.
It's safe to say America has a gendered violence problem.
Read more: