RNC in Cleveland to Kick Off By Removing Banner Of City's Most Famous Black Man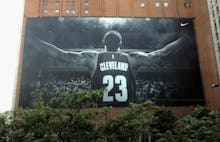 When the Republican National Committee meets from July 18 to 21 at Quicken Loans Arena in Cleveland, Ohio, it will do so with the local scenery appropriately changed to fit presumptive nominee Donald Trump.
The famous banner featuring LeBron James — star forward of the newly crowned 2016 NBA champions, the Cleveland Cavaliers — will be replaced with a patriotic "red, white and blue proclamation," WEWS reported.
The replacement sign will greet Republicans with the slogan, "This land is our land," the Plain Dealer reported.
The signage hangs on the Sherwin-Williams headquarters, which is located directly within view of the arena. While there was initially some confusion over who ordered the change, according to WEWS, the decision was made by Sherwin-Williams, not the RNC.
James, who was unanimously crowned the 2016 NBA Finals MVP following the Cavaliers' win on Sunday, is one of Cleveland's most famous sons — and just as importantly, a massive inspirational tale for many in the continually impoverished community. ESPN recently ranked James as the second most famous athlete in the entire world.
In addition to generating millions of dollars a year for the city's coffers through business and taxes, Sienna Zeilinger wrote for Salon, James is a major Ohio philanthropist. (A widely shared satirical tourism video for Cleveland quipped, "Our economy is based on LeBron James!")
"When you do something good for Cleveland, the degree of your benevolence automatically magnifies," Zeilinger wrote. "In a world that largely chooses to ignore Northeast Ohio, even thinking about Cleveland is itself an act of generosity."
As such, tearing down the James banner is a sadly apropos bit of scene-setting for a party preparing to nominate Trump. After a long and tiresome string of bigoted statements on the campaign trail, including citing a neo-Nazi's fake statistics on black crime, recent polls have shown up to 94% of black voters dislike the candidate. The GOP is 89% white, according to 2012 Gallup data. Cleveland is 53.3% black. Whose land is Cleveland, again?
Read more: