Dozens of Australian Cadets Say They Were Sexually Abused as Part of "Rite of Passage"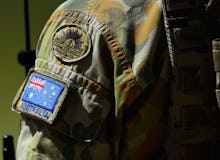 Several former Australian Defense Force cadets said they were sexually abused during their military trainings at a Royal Commission into Institutional Responses to Child Sexual Abuse hearing on Tuesday. 
The abuse has been called "the biggest cover-up in the century" by one victim, according to the Guardian. In total, 111 former cadets say they were abused. 
In the allegations, the cadets — who were as young as 15-years-old at the time — said they had to sexually assault each other and were also assaulted by the staff. Whenever they tried to report the abuse, it was ignored or passed off as a "rite of passage," according to CNN. 
Investigators are looking at conduct reports from the '60s to the '80s at various ADF facilities, such as schools and training centers as well as the ADF Cadets division after 2000.
In some reports, abuse involved being scrubbed with a brush and boot polish, or having their heads flushed in soiled toilets. One female cadet, who was accused of having a sexual relationship with an older instructor, had committed suicide after the ADF threatened to discharge her. No evidence of the relationship had been found. 
Robert Mcjannett accused the commission and the ADF of covering up the abuse. He said that the government did a "panic restructure" of the cadet program to avoid liability in nine jurisdictions. 
Graeme Frazer, another former recruit, had a compensation claim rejected by the Military Compensation and Rehabilitation service in 2001 because of a lack of evidence. Three years later, the ruling was overturned, and acknowledged that "bullying, harassment, intimidation, bastardisation, victimisation and violence" did exist at HMAS Leeuwin naval training center, one of the sites of the alleged abuse. 
The hearing continues until July 1, and 14 victims are expected to testify. 
Read more: