Alabama Police Officer Charged With First-Degree Sodomy for Forcing Fellatio at Gunpoint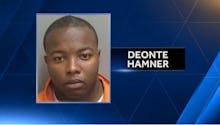 Despite anti-sodomy laws being unconstitutional, some states still have them — including Alabama, where a Montgomery police officer was charged with first-degree sodomy for "deviate sexual intercourse." 
On June 9, Broadly reported, Officer Deonte Lashawn Hamner allegedly pulled over a vehicle on a noise complaint and at gunpoint, forced the male driver to fellate him. The 27-year-old was arrested on June 14 and is now on administrative leave.
Broadly spoke with an unnamed individual at the Montgomery Police Academy Recruiting Bureau about police training and whether or not it addresses on-duty sexual assault. Their reply: "If you asked your boyfriend if he liked boys, and he said no, you'd trust him right?" Which isn't really an answer — unless they meant to imply that asking a man whether or not he's into other men could adequately predict his potential for assault.
Because sexual assault — specifically, rape — would be a more appropriate classification for the crime than sodomy is, but the discrepancy gets at gender inequities built into Alabama's laws. The Supreme Court invalidated anti-sodomy laws with its 2003 ruling in Lawrence v. Texas 
In Alabama, however, rape is a crime that only exists within the heterosexual realm. Both rape in the first degree and sodomy in the first degree are class A felonies carrying a 10-year minimum sentence — unless a firearm is involved, in which case the minimum prison term rises to 20 years.
Since assault by police officers is a problem in law enforcement agencies nationwide — Hamner is not the only Montgomery officer who's been accused of on-the-job sex crimes. And beyond Montgomery, others have been accused of assault in Hawaii; in Oklahoma City; in Virginia — the list goes on. Developing training methods that teach prospective cops not to abuse their power seems an eminently worthwhile pursuit.
Hamner, for his part, is currently being held in the Montgomery County Detention Center on a $60,000 bond. 
Read more: