Twitter's Response to Kendall Jenner's Nipples Highlights a Ridiculous Double-Standard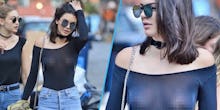 Kendall Jenner was handed a sweeping pass at what could have been a vitriolic moment of online slut shaming: but shouldn't all women be given the same privileges as a high-fashion model?
On Tuesday, the 20-year-old queen of magazine covers stepped out in New York City with friends Hailey Baldwin and Gigi Hadid wearing a black sheer top, exposing her braless, pierced nipples. 
Instead of receiving the usual backlash most women encounter when exposing their breasts in public — like a women verbally harassed by a man in a Connecticut Target for breastfeeding her infant child — Jenner was praised as a goddess among women and hailed for her exposing top.
Though Jenner's celebrated nipples could be considered a big win for feminists and the #FreeTheNipple movement, there can only be one reason why she was given such positive feedback — and it isn't because people are changing their attitudes toward female nudity. 
Jenner is an established, elite supermodel who falls into the very narrow Euro-centric beauty standards perpetuated throughout the fashion industry. Unfortunately for nearly everybody save for Jenner, exposed nipples are still very much a taboo trend that will never see the light of day thanks to their oppression and shaming by the mainstream. Even her very own sister was critiqued for revealing her breasts in a photoshoot supporting her lipstick brand.
And yet, men are continuously given the freedom to promote their own business endeavors with their bodies and sexuality. Like David Beckham, whose famous bulge was plastered across Times Square billboards and international advertising campaigns. 
Perhaps if society wants to reach complete equality, we should start treating every woman the way we do when a high-fashion model steps out onto the streets of Manhattan casually and flawlessly exposing her chest.