'Degrassi: Next Class' — Here Are the Latest Cast Updates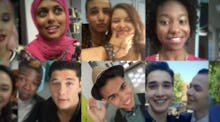 The latest chapter of the endearing exploits of those wacky kids at Degrassi Community School is almost here — the second season of Degrassi: Next Class, the current iteration of the Degrassi franchise, will hit Netflix on Friday, July 22, according to Deadline. 
The entire 10-episode second season will be released at once. So which characters will return for the upcoming season? Here's what we know so far.
According to promotional images of the upcoming season, a lot of familiar faces will return, including Olivia Scriven as aspiring musician Maya Matlin and Ricardo Hoyos as her fraught love interest and former gang member Zig Novak.
It appears that Richard Walters and Nikki Gould will be back as Tiny and Grace, respectively, rounding out the "rubber room" crew. Lyle Lettau and Ana Golja will be back as BFF pair Tristan and Zoe, and Andre Kim and Eric Osborne will reprise their roles as Winston Chu and Miles Hollingsworth III.
Miles' younger siblings, Hunter and Frankie, played by Spencer MacPherson and Sara Waisglass respectively, also seem to be back, along with Frankie's new love interest, Christian rocker Jonah Haak, played by Ehren Kassam. 
A host of minor characters will likely step into larger roles this season, as is the Degrassi way (after all, we're gonna need some new storylines once the oldest kids graduate), and there will likely be some new faces in the upcoming season as well. But there's always one thing that stays constant at Degrassi Community School: the exorbitant levels of absurd, high-octane teenage drama. 
Bring it on, Degrassi: Next Class.