This Hilarious Children's Book Perfectly Illustrates How to Explain Trump to Kids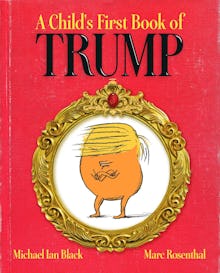 On July 5, parents will finally have a picture book to help them talk to children about presumptive Republican presidential nominee Donald Trump.
Comedian Michael Ian Black has written a children's book, A Child's First Book of Trump, describing the symbolic "beasty" called "Americus Trumpus" in rhyming couplets. Written cheekily in a style reminiscent of Dr. Seuss, the story talks about acting out to get attention and ends with the moral that tuning outrage, rather than feeding into it, can be the best way to handle a noisy bully. "Ignoring a Trump is a Trump's biggest fear," the book says.  
"It's not strictly for kids," Massachusetts-based illustrator Marc Rosenthal said about the book in a phone interview. "[But] the way Michael wrote it is a fun thing, like a fable, a way for kids to look at what they're hearing in the news ... Humor can be an effective way to communicate."
Rosenthal said drawing the Trump character was the book's biggest challenge. "The hardest part was creating the creature that was also Trump," he said. "I surrounded myself with pictures of Trump all month." 
Although the premise of the book might be frivolous on the surface, it serves a significant purpose. New York child and adolescent clinical psychologist Lara Paret said that parents should start thinking about how to talk with their young children about the elections this year. 
"Kids really need their parents as emotional regulators, especially when they're young and learning about social behavior," Paret said in a phone interview. 
Whether they are Republicans, Democrats or something in between, Perat urges parents not to let their own convictions get in the way of discussing politics with their children. 
"We want them to be able to think critically and respond in a thoughtful way, to respond rather than react ... [to understand] the difference between something that's meant to hurt and words that are unintentionally hurtful," she said. 
One way to teach children about the difference between expressing bold opinions and verbal aggression is by underlining how the speaker reacts if someone says that language hurts their feelings. 
"If you ask someone to stop and it stops, [the offense] was not intentional," Perat said. She recommends using the topic of Trump as a way to explore empathy, even comparing it to situations the child has seen in his or her own life. "This is like the time you played baseball and someone acted out and responded this way," Perat offered as a hypothetical example. "Why do you think he's saying that and why do you think people respond that way? ... What is the intention?" 
The playful and cartoonish nature of the book provides a lighthearted way for parents to approach the topic of the 2016 election while gauging each child's unique perspective and maturity level.  
"We can be smiling and laughing about something," Perat said. "Even when under that there's a really important lesson to mention."
Read more: