Undocumented Immigrant Earned Full-Ride Scholarship to Harvard Medical School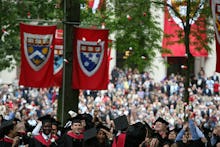 Now that she's been accepted into Harvard Medical School with a full scholarship, Blanca Morales of Santa Ana, California, is one step closer to her dream of becoming a doctor. 
For any would-be doctor, Morales' acceptance into one of the nation's top medical programs — let alone the full ride it awarded her — would have been cause for celebration. But for Morales, it's even more: It's history in the making — and the media is taking note. 
Blanca Morales is an undocumented immigrant — and for the 11.3 million others like her in our nation, this acceptance is a huge step forward.
"We are so proud to announce this wonderful news! Blanca ... has dedicated her life to serving the underserved," reads the announcement on the official Facebook page of Health Scholars, a volunteer group for college students dedicated to "improving health care in the under-served communities."
Morales is able to work in the U.S. through Deferred Action for Childhood Arrivals, a 2012 policy that gives those who immigrate to the U.S. a renewable work permit that lasts two years, allowing her to continue both work and school.
She is now the first DACA permit recipient to study medicine as a health scholar at Harvard. 
When she was 5 years old, Morales moved to the U.S. with her family. She was valedictorian of her graduating class at Santa Ana High School and went on to graduate from the University California, Irvine with honors. 
Read more: