Neverland Ranch Raid Video Casts Dark Shadow Over Michael Jackson Death Anniversary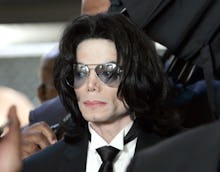 Just days before the seventh anniversary of Michael Jackson's death, evidence from a 2003 raid authorities from the Santa Barbara County District Attorney's Office and Sheriff's Department conducted at Jackson's Neverland Ranch was released to the public — and the footage casts a long, dark shadow over Jackson's musical legacy.
In the video, authorities enter what appears to be a secret closet in Jackson's bedroom, wherein they find photos of child celebrities and pornography, along with stuffed animals and games.
Though Jackson was acquitted on charges of child molestation and giving intoxicants to a minor during his 2005 trial, this week's revelations have stunned many who had wanted to remember the pop singer in a positive light. 
Some took their shock and confusion to Twitter:
Others maintained Jackson's innocence and pointed out the futility of trying to prove his guilt over a decade after his trial and years after his death:
And at least one person said outright that the evidence irrevocably tainted the king of pop's legacy:
The executor of Jackson's estate released a statement saying that the media was unfairly tarnishing Jackson's name.
"Michael Jackson's fans, including the executors of his estate, prefer to remember the wonderful gifts Michael left behind instead of having to once again see his good name dragged through the mud by tabloid trash," the statement reads, according to Billboard. "Michael remains just as innocent of these smears in death as he was in life even though he isn't here to defend himself. Enough is enough."
Read more: