The Way Hip-Hop Treats Hillary Clinton Says a Lot About Its Politics — And Its Misogyny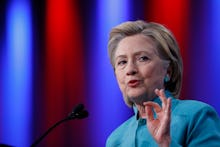 Rappers have been spitting about Donald Trump and Hillary Clinton for decades before the two found themselves facing off in the 2016 presidential election. 
Before the Donald styled himself as the second coming of Mussolini, earning himself diss tracks from YG and Smoke DZA, Trump was a hero of sorts — a symbol of the genre's reckless aspirations for wealth and power. Hip-hop's relationship with Clinton, on the other hand, is more complicated.
To hear some rappers tell it, she's the ultimate trap queen: a woman who is loyal to an almost impossible degree. Other times, she's been violated and dragged through the sheets by rappers like Skepta and Eminem, just to prove their masculinity. Elsewhere, she's a straw woman for the United States government and all its imperialist, exploitive impulses. 
One can actually get a pretty comprehensive picture of hip-hop's values by looking at the way it treats Big Hillz, as the video below, collecting 13 years of mentions, lays plain. 
Clinton's most iconic quality in hip-hop is her loyalty to her husband, former president Bill Clinton. After she stuck by even after he was accused of having sexual relations with Monica Lewinksy, she achieved legend status in hip-hop.
"Hillary still with Bill Clinton, how did they do it?" as Ludacris rapped on "Let's Stay Together," setting out his #relationshipgoals. "He got his dick sucked and the whole damn world knew it."
Yet many of the mentions are far less flattering. 
"This ain't Hatton & Floyd, this ain't the Giants vs. the Patriots/ Hov & Nas, Beanie Sigel against Jadakiss/ More like Obama versus Hillary, nothing," as Papoose rapped on his Fat Joe diss track "Shoot Me A Fair One," comparing the dynamics of their beef to those of the 2008 Democratic primary. "A intelligent black man against a woman."
This kind of misogyny has long been a talking point when critiquing hip-hop — but the most important and overlooked aspect of the discussion is that it's not unique to the genre. 
Mick Jagger, Bob Dylan, Ray Charles and so many other rock and blues stars have asserted their masculinity by lording over women, as the Daily Beast's Stereo Williams previously pointed out. The only difference, he explains, is hip-hop is "much more explicit, even if it is born of the same toxic mix of fragile male egos, accepted gender roles, double standards and entitlement."
The referential aspect of lines like Chino XL's "getting my dick sucked on the cover of Source magazine by Hillary Clinton" provoke way more of a reaction than the scores of the anonymous abused women in rock history.
Of course, many rappers haven't had to rely on sexism to mock the Clinton campaign. Her policies and her misguided attempts to woo millennial voters are enough: "The planet is collapsing," Chris Webby rapped on his 2016 track "Dat Piff," "the economies are crashing and Hillary Clinton's dabbing."
Read more: