These 'Game of Thrones' Season Finale Photos Have Us Pumped for Sunday's Episode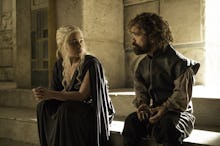 Although "The Battle of the Bastards," Game of Thrones' penultimate episode of season six, has been fought and won, "The Winds of Winter," the season finale of the critically acclaimed HBO series, is coming at us faster than, well, the actual winds of winter descending upon the Stark family's ancestral homeland. 
The finale promises to be a doozy: As Tech Insider reports, the episode will feature director Miguel Sapochnik at the helm, who also took the wheel for the epic "Battle of the Bastards" showdown during last Sunday's episode. The episode will also boast a 69-minute runtime — the longest in the series' history.
Below are six promotional photos HBO has released ahead of what is sure to be an explosive conclusion to season six.
Bran Stark lounges in the snow looking pensive.
Daenarys tells Tyrion that she's sick and tired of all of this violence, probably.
Ser Davos finally gets angry about Princess Shireen's death, after more than a full season's delay.
Jaime Lannister and Bronn provide thin comic relief on the road to The Twins.
Walder Frey and Jaime trade casserole recipes.
Loras Tyrell kneels right down on the ground there, even though it's probably uncomfortable.
Read more: