Hackers Hijacked Channing Tatum's Social Media and Posted an Ariana Grande-Inspired Anthem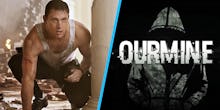 When hackers want to justify their actions, they usually leave behind a manifesto or a janky Anonymous-inspired video. This time, they left behind a hit single.
The OurMine team, the same hackers who hijacked the social media accounts of YouTube gamer PewDiePie, Facebook CEO Mark Zuckerberg and ex-Twitter CEOs Ev Williams and Dick Costolo, picked a new target: Magic Mike heartthrob Channing Tatum.
Meet OurMine: The team is made up of three independent hackers. Unlike anarchistic, politically minded hacking groups like Anonymous, OurMine claims that it's singularly focused on security. It only leaves behind messages encouraging people to be more careful with their passwords and plugins.
The hackers don't keep social media accounts, but they've been bouncing around from website to website advertising their services and posting their exploits — until they're ultimately taken down by the sites' owners.
The damage: In Tatum's profile, OurMine left behind its signature advertisement, a blurb asking people to go to its website and sign up for a security consulting service "to keep them safe from other hackers," an OurMine member told Mic in private messages.
"We are just trying to let them know that nobody is safe," OurMine said.
To prove their point, they willingly offered us Tatum's Twitter password. (You'll just have to trust us when we say it's much better than Zuckerberg's "dadada.")
The weird part: The OurMine team also left behind another trademark — its theme song, posted on Tatum's YouTube account. It's a total banger. The song, called "Hacked by OurMine Team," is a cover of Ariana Grande's "One Last Time," but the words are changed so it's about information security. One stanza goes:
"You don't deserve it/ I know you don't deserve it/ but each and every minute/ the glory makes it worth it/ There's no forgiveness/ now everyone will witness/ this power of our team is survival of the fittest."
Since the video on Channing Tatum's YouTube account will almost certainly be removed, here is the original video re-uploaded for your listening pleasure: