Democrats' Gun Control Sit-In Continues, Yet Republicans Still Not Moved to Act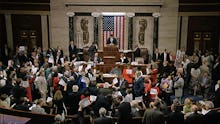 House Democrats' sit-in to force a vote on gun control passed its 20th hour early Thursday morning, with a handful of members still gathered on the floor of the chamber wrapped in blankets and vowing to hold out until Republicans schedule a vote on a bill that would ban suspected terrorists from purchasing firearms.
House Minority Leader Nancy Pelosi vowed the sit-in would continue until Speaker Paul Ryan put gun control legislation to a vote — a promise that could leave Democrats sitting in the chamber for over a week, as House Republicans gaveled the chamber into recess until July 5.
Led by Rep. John Lewis, the Georgia Democrat and civil rights icon who led sit-ins in the 1960s to protest segregation, Democrats hoped the sit-in would get Republicans to act on gun control legislation in the wake of the Orlando shooting massacre, which left 49 dead and injured more than 50 others.
The sit-in at times grew raucous.
When Ryan — who dismissed the sit-in as a "publicity stunt" — entered the floor to schedule a vote on an unrelated spending bill, Democrats in the chamber loudly chanted over him.
A crowd of protesters gathered outside to support the sit-in at times grew so loud their chants could be heard in the House chamber.
A number of Democratic Senate colleagues also joined the action.
Sen. Elizabeth Warren of Massachusetts, who sat with House members in the chamber, arrived at 8:30 p.m. with Dunkin Donuts to help sustain her Democratic counterparts.
Other senators also donated home-state snacks.
Most unprecedented of all, however, was the way the sit-in has been broadcast to the public.
With the House in recess, the cameras that feed live video to C-SPAN were turned off, leading a number of members to use Periscope and Facebook Live to cover the sit-in themselves — an unprecedented move in a place where cameras are not permitted.
Stick with Mic for more updates on this breaking story.
Read more: