A Rattlesnake Interrupted This Colorado Wedding Photo Session — Here Are the Results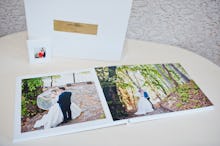 It's the wedding day nightmare no couple has — but apparently should: a photo sesh that devolves into an emergency room situation.
Newlyweds Johnny and Laura Benson and photographer Maddie Mae found the perfect patch of greenery Monday outside the Horsetooth Reservoir in Fort Collins, Colorado, when an uninvited guest crashed the photo op — a rattlesnake.
Mae discussed with Good Morning America in hilarious detail how the groom was attacked by the snake.
"A Larimer County Park Ranger was driving by, and all three of us started waving furiously at him. He rolls down the window and we yelled, 'He just got bit by a rattlesnake!'" Mae said. "The ranger, obviously not hearing what we said, yelled back, 'Congratulations!'"
The ranger eventually recognized their desperation and contacted paramedics. The three rushed to the hospital for treatment with the hopes of, you know, eventually making an appearance at their own wedding reception. While Johnny was initially told he might have to stay for a few days in the hospital, he didn't have any venom in him.
"The people at in the ER at Poudre Valley Hospital then became the heroes as they made it the world's shortest ER visit in history," Mae said. "Johnny and Laura were back in my car, driving to their reception in less than 20 minutes."
The couple made it to their reception only an hour late, with Mae describing the somewhat grand entrance as one of the most beautiful reactions she's ever seen.
"I've never seen such an emotional grand entrance as all 184 guests cheered when Johnny and Laura walked in and showered them in a sea of passionate hugs," Mae said. "I admire Laura and Johnny so much for staying calm, and holding each other's hand through the first great test of their brand-new marriage."
Read more: