Donald Trump Heads to Scotland During Crucial Moment in 2016 Election Campaign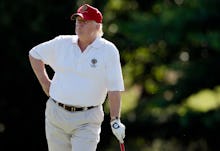 Don't you just hate when you're pivoting toward a general election, but you have to take a quick detour to Scotland to check on your golf courses? Same. 
Donald Trump's extremely relatable business trip to the United Kingdom isn't about picking up international endorsements, or even positioning himself on either side of the "Brexit" vote (though he's already said he's in favor of Britain removing itself from the EU). 
Instead, the presumptive Republican nominee for the White House will head to multiple golf resorts his family owns for a "brief but important visit," his son Eric told the Associated Press. 
"The Turnberry course is one of the crown jewels of the golf world and is now one of the crown jewels of our family's properties," Eric said to the AP. "He's over there to inspect the course and to support his son who put a tremendous amount of time and energy into the project."
News broke earlier this week Trump's Scottish neighbors have erected Mexican flags in solidarity with the country after his controversial rhetoric concerning Mexican immigrants and a Hispanic federal judge. 
Trump does have a press conference scheduled during his stint in Scotland, and since this is Trump we're talking about, there's no telling whether he'll use the air time to attack Hillary Clinton or make another comment about Brexit. 
Trump has said he hasn't paid attention to the EU's important decision, telling Fox Business Network, "I don't think anybody should listen to me, because I haven't really focused on it very much, but my inclination would be to get out, because you know, just go it alone."
That's not exactly your typical hole-in-one response to a critical ongoing debate from a presidential nominee, but Trump has bigger things to worry about than international politics: like golf, and his kids' Scottish resorts.
Read more: