'Gotham' Has Recast Poison Ivy as an Adult — And It's Not Weird At All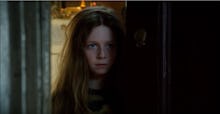 Fox's Gotham has opted to recast one of Batman's most iconic villains: Poison Ivy. Since the series takes place with many of Batman's characters as younger versions of themselves — including the Dark Knight — the original Poison Ivy, played by Claire Foley, was 14.
However, Gotham's Poison Ivy will now be played by 28-year-old Maggie Geha in season three, and the upcoming transformation was vaguely descrisbed by Fox, involving a "monster from Indian Hill." (Solomon Grundy, perhaps?)  
"Following an encounter with a monster from Indian Hill, Ivy Pepper finds herself reborn, and one step closer to the DC villain she is destined to become: Poison Ivy," the character description reads. "Now a 19-year-old woman who's harnessed the full power of her charms, she sets her sights on Bruce Wayne." In the comic books, Poison Ivy often uses her sexuality as a weapon to incapacitate her enemies. 
This could be problematic. While Poison Ivy's sexuality is certainly canonical to the Batman universe, she is going to be played by a 28-year-old actress, while David Mazouz, who plays Bruce Wayne, is only 15. So, by the show's own admittance, they could be showing the seduction of an underage kid.
Gotham certainly wouldn't be the first show to do so — Game of Thrones' King Tommen is a young lad himself, who is convincingly seduced by a much older future queen, Margaery Tyrell. Of course, that doesn't make it any better; in both cases it's unsettling. 
Gotham returns to Fox for a third season Sept. 19. Given that season two featured a "Rise of the Villains" motif with several big-name introductions, more could be coming along with the way, including more on-screen time for Batman's greatest nemesis, The Joker. 
Read more: