Ariel Winter Responds to Body Shamers: "If You Hate It, Don't Buy It."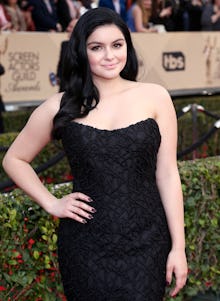 Modern Family actress Ariel Winter has had it with your body shaming — and has a message for those relentlessly taunting her: Get a hobby.
As Mic previously reported, after Winter posted a picture of herself on Instagram in her graduation party dress earlier this week, she was inundated with vile comments from body shamers who claimed that her dress, which had a cutout in the middle, was inappropriate. "You seriously wore that in front of family?" one commenter wrote. Another: "That's a family thing... don't u think it's a bit much?" 
Now, Winter is on the defense, tweeting to her haters Wednesday night.
"Dear sorry body shamers, I looked HOT in that dress," she wrote. "And if you hate it, don't buy it. But please get a hobby. XOXO Ariel." She added the hashtag #EmbraceYourBody. 
Less than 30 minutes later, she posted another picture of herself on Twitter and Instagram, with the caption, "Embrace all that you are. Don't let those outside voices become your inner voice #MyChoice and #LoveYourCurves."
Her ultimate message? Her body, her choices, her rules. Below the post, hundreds of fans came to her defense, saying, "You tell 'em" and "Glad you stand up for yourself!" 
Winter's statement couldn't have come at a better time, as she's been getting regularly lambasted whenever she posts a picture of herself on Instagram, with throngs of people eager to body shame her. An example of comments from her last few pictures: "No one's going take her serious looking like a slut" and "You're wearing a whore's outfit." 
Reminder: Winter is 18 years old. 
This isn't the first instance Winter has had to stick up for herself and against online trolls. In November, when she was 17, her Instagram post addressed all the people who were saying she was "asking for it" when she posted a picture of herself in a bathing suit. 
"Who knew that an innocent photo with my nieces would turn into this?" she wrote. "The height of a girl's skirt or whatever she is wearing for that matter, does not imply what she is asking for. It sickens me to think at 17 years old, a photo of myself with my nieces is suggesting that I'm 'asking for it.'"
Six months later, now 18, here she is again, having to educate people on the internet who still don't understand that she has every right to choose how she dresses and presents herself. 
Read more: